Skip to content
Hard Core Northwest
The bold, ambitious people and the unrivaled landscape of this region are the inspiration for our name, Fierce County. Crafted from only Pacific Northwest grown, fresh-pressed apples, our small batch ciders are crisp and complex, infusing new world ingredients into one of the world's oldest craft beverages.
[rescue_spacing size="40px"]
At Fierce County Cider we focus on crafting small-batch hard cider made from fresh-pressed Northwest-grown apples. Naturally gluten free, we only use real ingredients in our ciders, letting the apples shine through in every sip. With each batch of Fierce County Cider, we are working to perfect our craft and deliver the finest cider to the people throughout the region.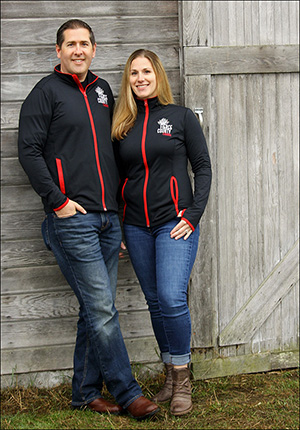 ROOTED IN CRAFT
Fierce County was started by John & Tolena Thorburn, who are self-described craft beer lovers turned cider enthusiasts. For the past 15 years, they have traveled the world seeking out the very best in craft beer. Learning and enjoying the varying styles and flavors unique to each brewer and set of ingredients, they have applied that experience to years of home brewing and cider making.
WHAT CAN YOU DO IN 97 SQUARE FEET?
In 2017, Fierce County Cider launched its first commercial operating space. The 97-square foot ciderhouse in Puyallup, WA is strategically organized to manage all cider operations. The ciderhouse is built for efficiency, utilizing the latest brewing technology and equipment to allow lead cider maker Tolena to create fiercely amazing ciders in each batch.
---

Our Cider
AVAILABLE YEAR-ROUND
Mango
Blending the crispness of Washington apples with sweet mangoes, this lush cider offers a taste of the tropics all year 'round. Packing that big juice flavor of Alphonso Mango nectar, Fierce County's Mango cider is bright but not overly sweet, making it highly crushable and an easy drinker for any occasion.
ABV: 6.8%    BRIX: 3.0    AVAILABLE: Bottles & Kegs
Gin Gin Cran
Gin Gin Cran comes after your taste buds with a ginger kick balanced with the tartness of cranberry. Crisp and refreshing, this is a great drink for all seasons. At 6.5% ABV, this semi-sweet cider is paired well with a meal of pork, chicken, spicy and asian cuisine.
ABV: 6.5%    BRIX: 3.0    AVAILABLE: Kegs & Bottles
SEASONALS
Everything Nice (2018)
Sugar, spice and Everything Nice! Chase away the cold winter nights with our seasonal warmer. Everything Nice blends crisp apple with the mulled spicy goodness of cinnamon and nutmeg.
ABV: 6.9%    BRIX: 3.5    AVAILABLE: Kegs & Bottles
Hot Raspberry
Warm on the tongue and sweet all the way down, Hot Raspberry tantalizes the tongue with a blend of fresh Habanero Pepper heat and ripe berry flavor.
ABV: 6.7%    BRIX: 3.0    AVAILABLE: Kegs (currently not in production)
Boysen Apple
Boysen Apple serves up a slice of summer with its sweet-tart boysenberry flavor paired with Washington apples. Pass the ice cream!
ABV: 6.7%    BRIX: 3.0    AVAILABLE: Kegs (currently not in production)
---
Locate Our Cider
Being a small production cidery, our ciders can be challenging to find on tap as the kegs get emptied quickly! In the map below are locations around the region that you can find us in their tap rotation. And if you have a suggestion for where you'd like to see us on tap, let us know!
Bottles of Fierce County Cider can be found in Tacoma at Peaks & Pints and The Copper Door, Tacoma Boys in Puyallup, H&L Produce in Lakewood, and in Auburn at CRFT Beers.  Cheers!
[SLPLUS immediately_show_locations='true']
---
Send Us a Message!
[contact-form to='fiercecountybrewing@gmail.com' subject='Website Message from FierceCounty.com'][contact-field label='Name' type='name' required='1'/][contact-field label='Email' type='email' required='1'/][contact-field label='Comment' type='textarea' required='1'/][/contact-form]